SPILL SEWAGE SLUDGE IN AGRICULTURE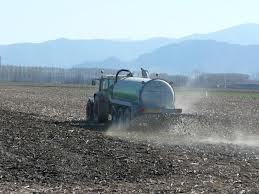 The sewage sludge is used in civil and food can be reused as fertilizer in agriculture. Thanks to their agronomic characteristics and content of organic matter , nitrogen and phosphorus , their use in agriculture brings nutrients to the plants. Their use must be managed in accordance with the needs of the soil and crops , without however, alter the characteristics of soil and surface water and groundwater .
The sludge used in agriculture are constantly monitored by physico-chemical and bacteriological analysis following the parameters laid down by regulations at approved laboratories .
The spreading of sludge takes place on the grounds of farms authorized by the competent authorities , subject to the submission and approval of a draft plan for a three-year crop .
The means of transport allowed in the handling of biological sludge are equipped with demountable seal in the designated areas on the farm, are transferred to the platform trailer spreader and spread evenly on the land in accordance with the approved design. Subsequently, the spreading is performed by burying deep plowing with appropriate agricultural vehicles .
Carboli owns permits the spreading of sludge in agriculture on several farms in Tuscany.